BRIGHT BLACK GALLERY
Prints
The woodcut prints in Bright Black illustrate various themes of the black experience in America. From "To Be Free" which shows the struggle to persevere over oppression to "The Council" highlighting the connection between the experiences of all black Americans past, present and future.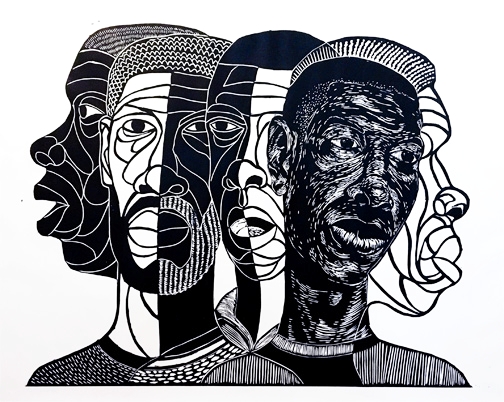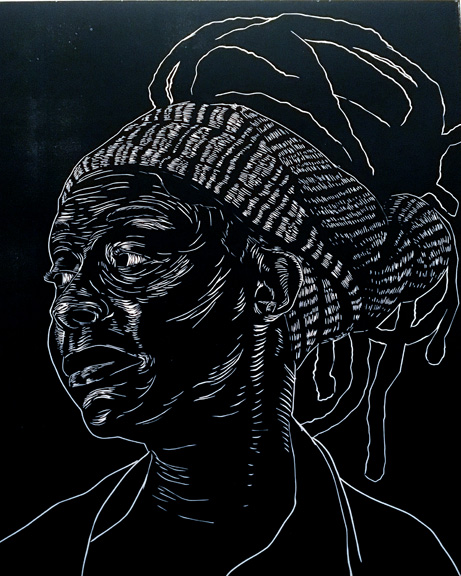 American Color Theory
A part of the exhibit focuses on the "American Color Theory". American Color Theory is presented in a series of 10 serigraphs that are bound in an accordion book. In addition, prints from the book will be on display. The prints and serigraphs on American Color Theory use torn images on paper and text to illustrate the different principals that are used to govern color and its interpretation in America. The book seeks to define black since the value of black must be controlled and contained.
Part of the show includes the actual woodblocks used for the woodcut prints. The woodblocks usually are an incidental part of the relief printing process. The blocks are carved, inked and rolled through a press to produce the final edition of a work of paper. They are often never seen. By including these blocks as art pieces, viewers get to see the nuances and detail that go into the creation of the printed works. Each are framed with a detail of the wooden triangles from the "Redlining" constructions.
All the work from the show are available for purchase at
ZuCot Gallery
100 Centennial Park Dr, Atlanta GA 30313
(404) 308- 1030